Top Realtors in Greeley, CO
Jump to: Why You Need A Top Realtor Near You in Greeley, CO, House Prices and Real Estate Trends in Greeley, Colorado, Contact the Nearby Real Estate Agents in Greeley at Kittle Real Estate
Situated 49 miles northeast of Denver along the Front Range lies Greeley, Colorado. Greeley has the charm and feel of a small town but offers all the creature comforts and attractions of a major city, and it has panoramic views of the Rockies, too.
It comes as no surprise that people – lots of them – are moving to Greeley. In fact, it's one of the fastest-growing cities in the country. The Greeley, CO real estate market is hot, with median home values increasing over 10% from March 2018 to March 2019 and expected to continue to rise through March of 2020.
Why You Need A Top Real Estate Agent in Greeley, Colorado
Whether you're looking to buy a new home or selling one in a competitive housing market like Greeley, CO, it's critical to have a fantastic realtor. Top-performing realtors sell homes significantly faster than their colleagues and typically at considerably higher prices. For homebuyers, you want the top realtor in Greeley who will find your perfect home and close the deal before another buyer gets it. See our up to date Greeley real estate listings.
A Top Realtor Will Help With Selling a Home in Greeley, CO
Whether you're selling your first home or have done been down this before, working with a top realtor in Greeley, CO will benefit you. Real estate agents, in Greeley, bring their expertise to the table and know how to navigate the complicated paperwork and handle challenging negotiations. Often, realtors also get sellers a higher price than if they represented themselves.
Top real estate agents in Greeley significantly outperform other agents in the area. Of the more than 900 real estate agents in Greeley, the top 3% sell homes in an average of 41 days, while the city-wide average is 65 days. These top-performing real estate agents also get sellers about 3% more money for their homes.
Help Buying a Home in Greeley
This is a hot housing market and you want the best Greeley real estate agents on your side when you're looking for a home to purchase. Homebuyers who work with a realtor as opposed to representing themselves often save some money, since the agent negotiates on their behalf. A real estate agent will also help you prepare an offer and make sense of all the complicated paperwork involved.
Regardless of whether it's your first home or a vacation home in Greeley, a real estate agent with local expertise can help guide you through the entire home buying process. Your nearby realtor will help you identify the best neighborhoods that will suit your lifestyle, find schools you'll be pleased with, and offer insider tips and knowledge.
Save Time and Money with Realtors Near You
Some things should simply be left to the professionals, and that includes buying or selling a home. Save yourself time, frustration, and money by working with top realtors in Greeley.
On the buyer side, a real estate agent will help you refine the area or types of homes you look at, and he or she can save you money during negotiations. For sellers, an agent will ensure you get the highest possible price for your home and will field offers for you. No matter which side of the transaction you are on, having a professional agent will only benefit you.
House Prices and Real Estate Trends in Greeley, Colorado
Greeley real estate trends in 2019 were very competitive, with many houses selling quickly at – or very near – their asking price. In fact, only 0.8% of homes in Greeley sold for under their list price. The average Greeley house prices for sale in January 2020 were just over $302,000, a 3% increase over 2019. The median home value is just shy of $263,000.
March 2019 predictions for Greeley house prices were that they would increase by about 5% over the next 12 months. They did, and far exceeded that: In the last year, the median home value in Greeley has risen by more than 10%, far greater than the national average.
Since 2000, Greeley real estate trends show that the top five neighborhoods with the highest appreciation rates are Turner Hall/Dorm Road, Auburn, Jackson Field/University of Northern Colorado, 11th Avenue & 5th Street, and E. 28th Street & US Route 34.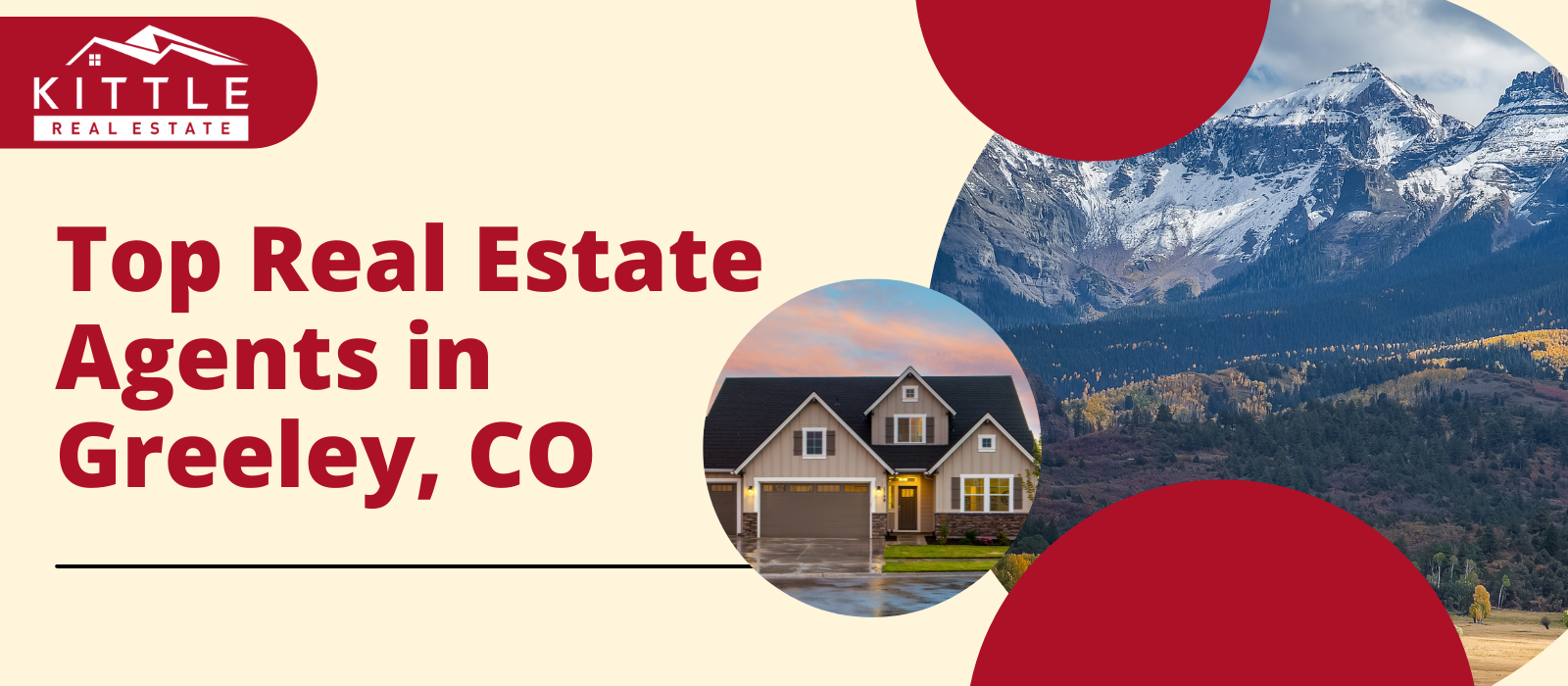 Here are a Few Reasons Why You Should Contact the Kittle Real Estate Team
Northern Colorado is spectacular, from Fort Collins to Greeley and everywhere in between. The realtors of the Kittle Real Estate team know that because almost all of us are natives who have always lived and played in Greeley. Now, we choose to work here as well. As a top realtor in Greeley, CO, Kittle Real Estate offers tremendous benefits to home buyers and sellers alike.
Keen knowledge of market trends
With over 5,000 homes bought and sold and nearly 20 years of local experience buying, selling, and investing in northern Colorado real estate, we have extensive knowledge of the local housing markets.
Relaxed and friendly negotiations
We take a great deal of pride in being Coloradoans, and we bring the signature Colorado friendliness and warmth to every one of our clients and real estate transactions. We believe that's why we have more 5-star reviews than any other agent in northern Colorado.
The best deals
Whether we're representing you as a buyer or seller, we make sure you get the best deal possible. We negotiate to save our buyers money on purchases, and we close home sales at an average of 99% of the listing price.
Contact the Nearby Real Estate Agents in Greeley at Kittle Real Estate
If you are looking for homes for sale in Greeley contact the team at Kittle Real Estate who aim to not just meet clients' expectations but to exceed them. Exciting real estate opportunities await you in Greeley, CO. Among realtors in Greeley, CO, Kittle Real Estate is one of the highest-performing and best-ranked teams. Founder Rob Kittle has over 20 years of experience in the northern Colorado real estate market and he has hand-picked his team of results-driven real estate agents. Kittle's real estate agents in Greeley are not only experts at what they do, but they're friendly and they'll work hard for you, whether you're buying or selling your home. We at Kittle Real Estate are ready to help. Contact us here or call 970-387-6348 OR 970-218-9200. You can also send us an email at [email protected]. And if you are planning on moving to Greeley, CO make sure to check out our guide to living in the city.
See What Our Clients Say
"Max Sepulveda!!! Hands down made buying a house very easy. Mr. Sepulveda was very flexible, honest, and very knowledgeable. I would recommend working with Mr. Sepulveda if you're looking for the perfect house. He will make it possible. Once again, thank you Max Sepulveda and Kittle Real Estate."
Nelson L.
Rating 5/5 ⭐⭐⭐⭐⭐
See our 4.9 rating and read more of our 468 reviews on Google!